Overview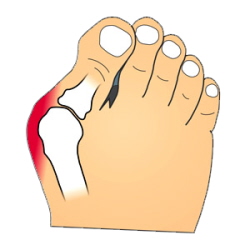 In medical terms, a bunion, or hallux valgus, is a bony bump that forms around the joint at the base of your big toe. This joint is one of the most important parts of your foot, bearing most of your body weight. The bony bump is caused by the head of the first metatarsal bone (the long bone) behind the big toe angling out from the foot. This causes the joint to swell, pushing the big toe in towards the adjacent toes. The result is pain on the side of your foot, arch pain, and discomfort throughout the adjacent toes as well.
Causes
A true bunion or hallux valgus results from a drifting inwards of the big toe metatarsal from its normal position closer to the second metatarsal. The bunion is the head of this first metatarsal which produces the prominence on the inner side of the now wider foot. Tendons run circumferentially around the metatarsal and toe. They both move and stabilise the toe under normal circumstances. In a bunion or hallux valgus, with the shift/displacement of the first metatarsal these tendons no longer lie in the correct axis and in fact act as a deforming force, contributing to the bunion condition.
Symptoms
The signs and symptoms of a bunion include a bulging bump on the outside of the base of your big toe, swelling, redness or soreness around your big toe joint, Thickening of the skin at the base of your big toe, Corns or calluses, these often develop where the first and second toes overlap, persistent or intermittent pain, restricted movement of your big toe. Although bunions often require no medical treatment, see your doctor or a doctor who specializes in treating foot disorders (podiatrist or orthopedic foot specialist) if you have persistent big toe or foot pain, a visible bump on your big toe joint, decreased movement of your big toe or foot, difficulty finding shoes that fit properly because of a bunion.
Diagnosis
Before examining your foot, the doctor will ask you about the types of shoes you wear and how often you wear them. He or she also will ask if anyone else in your family has had bunions or if you have had any previous injury to the foot. In most cases, your doctor can diagnose a bunion just by examining your foot. During this exam, you will be asked to move your big toe up and down to see if you can move it as much as you should be able to. The doctor also will look for signs of redness and swelling and ask if the area is painful. Your doctor may want to order X-rays of the foot to check for other causes of pain, to determine whether there is significant arthritis and to see if the bones are aligned properly.
Non Surgical Treatment
Patients who suffer from bunions are usually referred to a surgeon. Unfortunately, surgery often makes the problem worse. Surgeons will use x-ray technology as a diagnostic tool, which does not always properly diagnose the pain source. Another problem with this approach is that it does not do anything to strengthen the weakened ligament in the foot and, thus, does not alleviate the chronic pain that people with this condition experience. Another standard practice of modern medicine is to use steroids or to prescribe anti-inflammatory medications. However, in the long run, these treatments do more damage than good. Cortisone shots and anti-inflammatory drugs have been shown to produce short-term pain benefit, but both result in long-term loss of function and even more chronic pain by actually inhibiting the healing process of soft tissues and accelerating cartilage degeneration. Plus, long-term use of these drugs can lead to other sources of chronic pain, allergies and leaky gut syndrome.
Surgical Treatment
Bunion surgery is most often a day case or one night in hospital. Surgery can be done under ankle block (patient awake) or general anaesthetic. It is best to rest with the foot elevated for the first 2 weeks after surgery. The foot is bandaged and a special sandal supplied by the hospital is worn for 6 weeks. Sensible shoes are to be worn for a further 6 weeks after the bandages are removed. It will take between 3-6 months for the swelling to go down. It will take 12 months before everything completely settles. It is also important to remember that not all bunion operations are entirely successful.
Prevention
Proper footwear may prevent bunions. Wear roomy shoes that have wide and deep toe boxes (the area that surrounds the toes), low or flat heels, and good arch supports. Avoid tight, narrow, or high-heeled shoes that put pressure on the big toe joint. Medicine will not prevent or cure bunions.